Tulsa County Emergency Shelter – The Parent Child Center of Tulsa Family Interaction Time
Mariah Judd, PhD
May, 2018
The Parent Child Center of Tulsa sponsors a program at the Tulsa Emergency Shelter that the residents [lovingly] call Family Fun night.  It is one evening a week for one hour where residents with children come to participate in activities designed to encourage creativity, inspire confidence, and instill a sense of normalcy to the families that are living at the shelter.
I recently attended one of these Family Fun Nights and got to experience first-hand the impact that this program has on the residents of the Tulsa County Shelter.  Carol Keeley is the coordinator and point person for this program.  She researches and implements the activities each week.  They are simple crafts and activities ranging from coloring pages of rainbows and Star Wars to a crowd favorite Holiday Bingo.  I had the pleasure of joining on the evening that had a special Mother's Day activity.  The children were given instructions on how to make a purse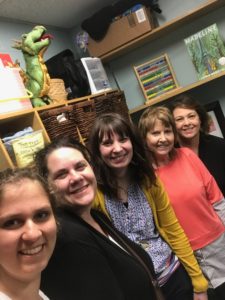 out of the supplies that were provided and asked to write a personal message inside.  There were two boys specifically that stood out to me.  They took this activity very seriously.  They moved to a different table so to surprise their mothers with their cards when they were done.  (I later learned that these boys have a real bond and friendship since meeting one another at the shelter.)  They worked the entire hour on their cards and presented them to their mothers with such pride.  I was moved by their effort (and support of one another) and humbled to see how such a simple activity could bring them so much joy and sense of accomplishment.  There were several other families there that night, all equally engaged and happy to be there.  Each with their own stories and struggles.  When it was over, one of the boys asked me if I would be there the next week and that he hoped that I would.  It was a bittersweet end to a wonderful experience.  No, I would not likely be back, but oh how grateful I am to be doing what I can to help programs like that one persists and thrive.
Being at the shelter, seeing the faces of these families in crisis, but also seeing those faces soften and lift when they started to color or glue or stamp, puts such a spotlight on the fragility of one's circumstance.  At the end of the evening, I walked out with Carol and chatted with her about some of the details surrounding the Shelter Program.  This is a program that gives an outlet to the children in residence there, but more than that, serves as a touchpoint for these parents to Carol.  A person that serves as teacher, friend, mentor, advocate, escape, light at the end of the tunnel that they are traversing.  When they leave the shelter (and sometimes while still in the shelter), they have the opportunity to enroll in the curriculum based home visit program, another PCCT sponsored program called SafeCare.  In this 9-12 month program, "Parent Educators" like Carol visit the residence of these families on a regular basis and step through a staged curriculum centered around life skills and parenting techniques.   This intervention and educational based program is a foundational program in its ability to couple education with real time support resulting in sustainable change for these families.
Family Fun Night is a fairly simple program by design.  Show up, hang out, rinse and repeat.  But the impact, the smiles, the relationships, the significance; these things are valuable and important and critical to accomplishing the mission of the Parent Child Center.
At the end of that evening when I was finishing up my enlightening conversation with Carol, she told me one last story about a family that she met first through the Family Fun Night program and followed them into the SafeCare program.  This story was one of enormous success and triumph.  The pride and emotion on Carol's face as she got to the part where the mother had a great job and a house and a thriving healthy relationship with her children grabbed me.  She was beaming with pride and tears were welling in my eyes.  Carol said that there were families that they can't reach, families that need her help and she hasn't the ability to help them; so many more families.  Now we are both wiping tears from our eyes and the only thing I could think was that there is always more to do, more to fund, more families to help, and more pain than we can heal, but that does not for one second diminish the work that is done every day.  Doing something counts and the PCCT is doing something, and that means everything.