Each year, April 1st kicks off Child Abuse Prevention Month, a month of prevention information and activity that helps build pathways of hope for affected families and raise awareness that child abuse and neglect is a societal issue.
As Child Abuse Prevention Month begins, volunteers plant thousands of pinwheels on the grounds of the Parent Child Center of Tulsa. Each pinwheel represents a case of substantiated child abuse in Tulsa County.  The sheer number of pinwheels on display mirrors the impact of suffering in our community, but it also raises awareness that resources like the PCCT exist to break the cycle, bring healing and hope. Other activities include a press conference, coloring challenge and decorating trees with blue ribbons.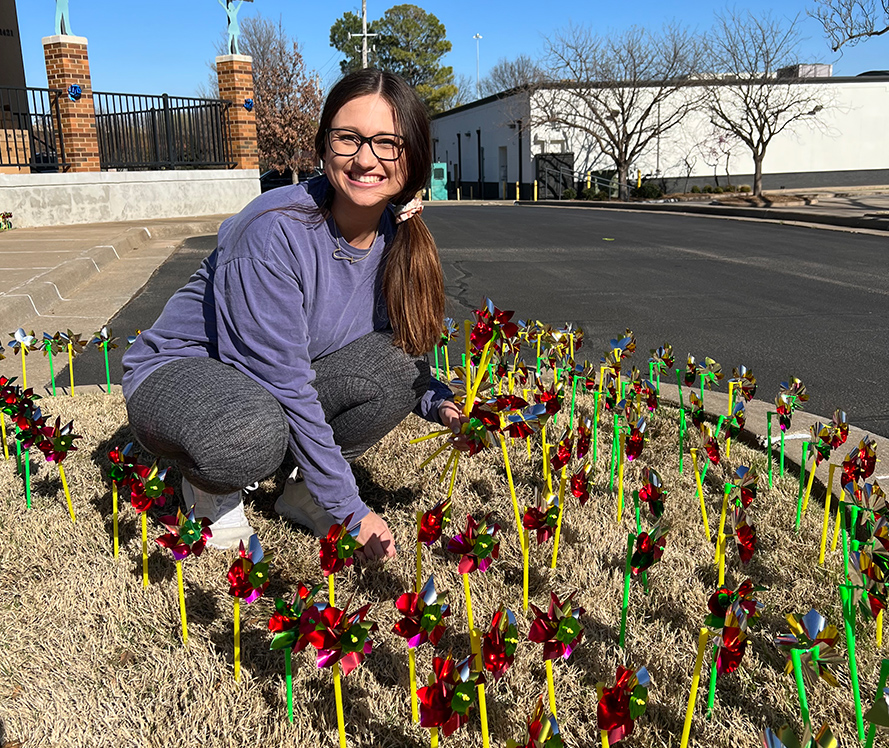 How you can help year round:
Child Abuse Prevention Month shines a spotlight on preventing child abuse and neglect, but it's a year round issue and you can always help in any of the following ways:
We encourage every citizen to 'do one thing' to protect children and strengthen families. Everyone can play a role in making Oklahoma a safer place for children and families.
Policymakers can reduce the hurdles faced by families who need support and resources
Business leaders can support families, leading to economic growth
Faith communities can open up their spaces for parent and youth activities.
Organizations that host families and young people can train staff on how to recognize, respond to, and prevent child abuse and neglect.
Educators can be more attuned to noticing if something seems wrong with a student and follow-up
Friends and neighbors can pay closer attention and help with the social isolation some parents may experience.
Anyone who thinks a parent could use support can reach out and share our message of HOPE and connect them with needed services.
Child Abuse Prevention Month is a great time to pull together and make a commitment to the children in our community that we will work toward ensuring their safety and well-being each day of every year.
If you would like to volunteer or have someone from The Parent Child Center come speak to your employees or organization, please contact ckane@parentchildcenter.org