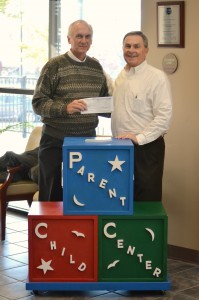 Local staffing company embraces the holiday spirit through community giving
(Tulsa, Okla.) – (November, 17, 2014) – The Tulsa office of Spherion Staffing Services, a local recruiting, staffing and workforce solutions provider, is donating $1,000 to The Parent Child Center of Tulsa as part of the company's national Community Giveback program.
Spherion owner, Jim Deatherage, chose to give back to this organization because he is a passionate proponent of the Parent Child Center of Tulsa's initiative to prevent child abuse and neglect through education, treatment and advocacy.
The Parent Child Center of Tulsa serves children from birth to twelve years old who are at risk for or who have suffered the most traumatic experiences of childhood such as physical, emotional, and sexual abuse or neglect. Serving over 26,000 parents and children in the last year, The Parent Child Center of Tulsa provides adult group and children's therapy and education programs for abused and at-risk children.

"We are so excited to contribute to the Parent Child Center of Tulsa," said Deatherage. "It is a great way to further our commitment to our local community and partner with our neighbors to make Tulsa a better place to live and work. The more often we are involved with organizations like the Parent Child Center of Tulsa, the better we understand the needs of the Tulsa community. This in turn helps us more effectively serve the individuals who live here. Our priority is putting the people of Tulsa to work and contributing to the health of local community organizations and businesses."
Each Spherion owner handpicked one or more organizations to "give back" to in advance of the holiday season. Overall, through this program, Spherion has donated $124,000 to local organizations in the communities where it operates. Spherion launched the national Community Give Back program to thank their communities and to help advance the important work of local charitable organizations.