This years Chili Bowl was a great success!  Pictured below (from left to right): Donna Hahn Harris, the daughter of Emmett and Fuzzy Hahn who started the Chili Bowl and first invited PCCT to participate.  J.D. Cormack is the organizer of the auction.  Desiree Doherty, Executive Director of The Parent Child Center of Tulsa.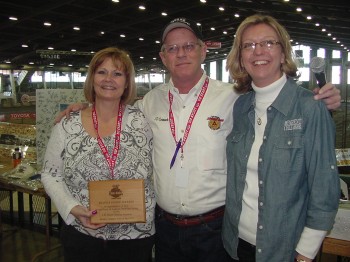 It's time for the Annual Chili Bowl Midget Nationals Auction! Since 1991 the J.W. Hunt Charity auction has raised over $170,350 for The Parent Child Center of Tulsa and helped over 2100 children. Take a look at the details below. We hope you can make it out!
12:00 Noon, Thursday, January 12
Turn 3&4 grandstands, Tulsa Expo Raceway
A portion of the proceeds will also benefit The Parent Child Center of Tulsa


Cory McClenathan Top Fuel Dragster
Larry Dickson/Wynn's NSCHOF&M "Members Only" Diecast
Roger McCluskey/Konstant Hot Special sprinter 1/18 die cast
Autographed Ken Schrader M&M's standup
Jim Hurtubise/Sterling Plumbing dirt champ 1/18 die cast
"King of the Hills" book by Buzz Rose, Autographed
Steve Kinser in Karl's #11 and Sammy Swindell in Raymond Beadle's Old Milwaukee #1 framed 8×10 prints
Gary Bettenhausen #14 Sunoco dirt champ 1/18 die cast
Chad Boat #98 Chili Bowl photo
Johnny Rutherford #9 sprint car Autographed 1/18 die cast
Steve Kinser etching in rock, Autographed
Jack Hewitt / Hampshire 63 Autographed 1/18 die cast
Damion Gardner 2011 Chili Bowl photo, framed
Cory Kruseman #45 Willis Machine 1/18 die cast
2004 Rumble in Ft. Wayne poster, framed
Doug Wolfgang 8D "Members Only" diecast, Autographed
AJ Foyt 4 time Indy 500 Winner poster with set of winners glasses from each year
Sammy Swindell Chili Bowl Midget, Autographed **See Photo: B**
Johnny Rutherford McLaren M16 Indycar, Autographed
"Squeeze Play" Cole Whitt, Damion Gardner and Donnie Ray Crawford photo
Brad Doty SPEED Channel shirt, Autographed **See Photo: C**
Sprint Car & Midget Magazine First Issue **See Photo: D**
Jerry Coons, Jr. Wilke Pak #11 midget
Die cast pedal car
Daryn Pittman #21 Chili Bowl photo
Brad Doty 28d diecast, Autographed
Tim Crawley midget sweatshirt, size large
Steve Kinser 1/18 and 1/50 diecast set
2011 Chili Bowl starting lineup Autographed helmet **See Photo: E**
National Sprint Tour hat and shirt, size 2X
Billy Vukovich Rev 500 dirt champ 1/18 die cast
Dean Van Lines Spl. Indycar pencil drawing
Donny Schatz 2006 Knoxville Nationals winning 1/18 die cast, Autographed
Jeff Gordon #16 1/64 diecast Autographed
Ron Shuman/ Ofixco 21x 1/18 diecast
Tim McCreadie #39 2011 Chili Bowl photo
Jud Larson #2 AJ Watson Special 1/18 diecast
AJ Foyt Fan Club jacket, size large with Autographed photo
AJ Foyt Dart Kart sprinter, signed by AJ Watson
Vintage USAC Mighty Midgets poster
1972 Indy 500 decanter (still full) and 2 1972 winners glasses (Mark Donohue won the 1972 Indy 500) **See Photo: A**
Parnelli Jones Hollywood Special midget
Sammy Swindell painted leather jacket and "Signature Series" Chanellock plier
AJ Foyt Sheraton Thompson Special dirt champ
Can-Am photo history
One of a kind Tony Stewart tabletop trio… Spoon holder, salt and pepper shakers and napkin holder set
Sammy Swindell 2011 Chili Bowl photo
Jay Woodside 1977 cap
Age of Travel vintage toy
Bobby Unser Bardahl #1 dirt champ, 1/12 scale Autographed
"Knoxville Nationals: Dirt, Sweat and Tears" DVD
Gold plated Elvis whisky decanter, still sealed from factory, in original packaging
Kasey Kahne #98 NASCAR diecast, Autographed
Ralph Capitani jacket, photo and Knoxville Raceway beer can
Dave Blaney #93 NASCAR diecast, Autographed
AJ Foyt photos in mirror, with Autographed photo
JJ Yeley/Steve Lewis #9 midget, Autographed
Dean Thompson/Ascot artwork
Brady Bacon #99 midget diecast
Ricky Stenhouse Jr. midget photo/artwork Autographed
Jesse Hockett #13 VKCC 1/18 die cast
Lone Wolf Doug Wolfgang book
Rich Vogler/Hoffman "Members Only" diecast
Brad Doty Still Wide Open Limited Edition, #7 of 500
Kasey Kahne dirt champ photo by John Mahoney, Autographed
Richard Griffin #50 diecast Autographed
Manzanita Speedways: Desert Thunder book by Buzz Rose 1981-2005
AJ Foyt Bowes Seal Fast GMP Vintage Series diecast
Indianapolis Motor Speedway blueprint poster, contains 30 autographs
Belleville Highbanks 100th Anniversary midget diecast
Shane Stewart/Rockstar #57 photo/art
Tony Stewart Chevrolet/Bass Pro midget
Gary Wright Autographed driving glove and photo
Don Schumacher Racing/John Gray Wonder Wagon funny car
"Let 'Em All Go" Chris Economacki book, Autographed by Chris and Dave Argabright
Bell Replica Vintage Hand Pump, mounted on a wood plaque
Dale Earnhardt Jr. hat and photo in the #3 Oreo car
If you are unable to attend, but would still like to bid on an item, please send an email to Special Events Coordinator David Herrmann at dherrmann@sprintcarhof.com with the item you wish to bid on and the amount you want to bid, by Wednesday, January 11 at 6 p.m. CST. We will have someone bid on your behalf up to but not above that amount. Please do not reply to this email with a bid.