Individual Therapy: Counseling provided by master's level therapists for problems related to current or past abuse, parenting issues, and relationship problems having an impact on children.
Counseling Groups: For adults who have abused or neglected their children, or for whom a report of allegation has been filed with Department of Human Services. PCC offers three 12 to 15 week programs on emotional regulation, compassionate parenting, responsible parenting, and nurturing parenting skills.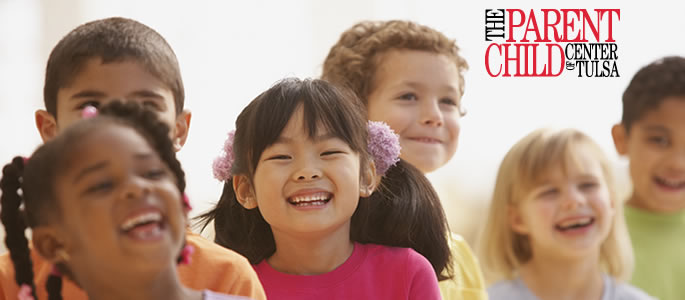 Contact Us
Contact The Parent Child Center – 918-599-7999
More about this program…
Two 12-week counseling groups are offered, supplemented by individual counseling for participants who miss group sessions, need additional services to understand and integrate concepts from groups, or have other issues they'd like to deal with in private counseling.
Compassion Workshop – uses Dr. Stephen Stosney's curriculum that teaches adults skills for regulating harsh emotions and reactions, and understanding how their own experiences and attitudes influence their behavior and parenting.
Responsibility Process Group – PCC curriculum based on Parents Anonymous model that uses group process to teach adults to take responsibility for how their actions have affected their children and what they need to do to change.
Parents with children ages birth to 12 years old. Many families in this program are involved with DHS and are ordered by the court to participate. Often their children are in out-of-home placement due to allegations of abuse or neglect and the parents are working to get their children back home.
Therapists are Master's trained licensed professional counselors with experience in individual, family and group counseling.
Adult Treatment is a tertiary program and the goal is to break the cycle of child abuse or neglect. The Majority of the clients are referred by the Department of Human Services. We provide services to some self-referred clients. The services are delivered by Masters Level Licensed Therapists. The primary form delivery of services is group therapy, individual and family counseling and parenting education. For our DHS clients services are delivered in phases. The Objective of the first phase is to assist parents in taking responsibility for court involvement and to assist them in understanding what changes they need to make in their life to break the cycle of abuse and neglect. The objective of the second phase is to reduce the risk of child abuse and neglect through parenting education. Our parenting program is a six month program. While parents are going through the program they may receive case management services and may receive individual or family counseling. We work in close partnership with DHS, other service providers and with juvenile court.